We are finally hitting a streak of warm temps! As you drive through town, you will start to see local businesses putting up their umbrellas and welcoming their visitors back to the patio.
There is something so great about Patio Season. It could be the relief of the "end of winter lockdown", or the return of warm breezes. Whatever it is, more and more people are creating their own cozy patios at home, and you can too!
Here are some things to consider while you are considering your own Patio project…
Drainage System a Go?
Before you move forward with any patio installation, be sure you have a proper drainage system in place. If you notice water pooling in your yard after heavy rain, or patches of dead grass, that could be a sign you need to improve your existing drainage system.
There are different options to improve drainage, but it is dependent on your property's layout. It may be best to ask a drainage resolution expert to determine if the existing condition of your property will create any drainage concerns once the patio is installed. It could save you time, money and the aggravation of having to redo work because you did not consider a proper drainage system on the front end.
Base Material
So what do you want your patio to look like? Do you want an artificial turf base so your dogs can comfortably hang outdoors with you? Streamline Landscaping recently completed an artificial turf installation in downtown Chicago. The balcony is now ready to be decorated and for the patio furniture to be added.
If you decide to go the paver / stone route, there are several options there as well. Here is a quick glance at some potential layouts. Maybe these ideas will spark new ideas for you as you consider your home or business projects.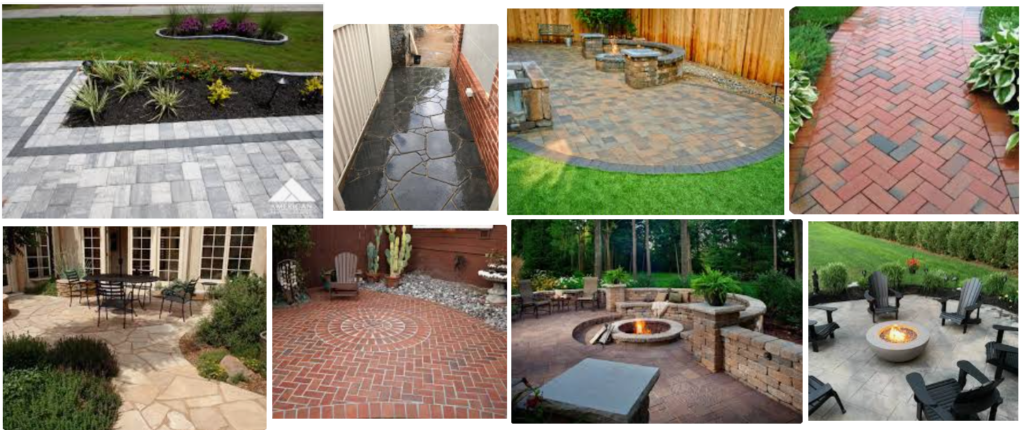 There are many different types of paver blocks or stone options. It is definitely worth taking the time to explore the internet to see the different types of pavers or stones available to get an idea of what might look best at your home. When in doubt, contact a professional.
Streamline Landscaping Can Help
Streamline Landscaping specializes in projects like patio installation. Make your life easier by calling Streamline and letting them take the wheel to make your Patio Dreams a Reality! Contact Us Today!